Last September, Charlotte from the inspirational blog Lift Me Up approached me to write an article for the new version of her blog, in French.
I was really pleased and touched that she picked me to write about my personal experience and belief 💗
I decided to translate the article in English here, so you can know me a little bit better …

The Magical Force
Since I was a little girl, I am convinced that some sort of energy exists, an invisible force that guides you to the right path of our destiny. Some magical attraction that sends us some hints and intuitions to lead us in the right place so we can be surrounded by the right people.
I was so anxious to become an adult and taste my first moments of independence and freedom to step into this beautiful world! I was picturing myself as an illustrator with pink hair, living in Montreal or in Southern California and singing in a rock band on weekends… The world was going to be my playground and I was anxious to be finally free to enjoy it, trusting that magic would guide me.
I promised myself that I would never fall into the trap of a cookie cutter adult life. Never let myself be infected by the grey reality in which adults get imprisoned in a comfort that they are too scared to leave to pursue their childhood dreams…
Then, once that day came, I was no exception to the rule: a well organized routine kicked in and from candid, I saw myself turned powerless.
Once grown up, I was always under pressure. I learned how to put on my beautiful social mask to blend in a role that everyone expected from me. Low profile, so far so food.
5 years of Parisian working life and there goes my grand life plans. Buried alongside with my Aladdin VHS tapes and my Trolls collection… I slowly but surely got infected too without even realizing it.
I vividly recall how the magic resurfaced in my life to shake up my plans… At first, it stung like a bee.
It took a painful heartbreak to wake me up and get back on the right track.
Bridget Jones, Adele and the Misalignment
After a lousy break up over Skype with a handsome Brit, I wrongfully thought that blasting Adele in my headphones and crying my heart out while eating a ton of Schoko Bons on my couch would be a good idea. Watch out Bridget Jones!
The next morning, impossible to get on my feet. At every try, I would inevitably fall back on the ground. The walls were spinning around and my eyes couldn't focus. "What the hell did they put in these Shocko-bons??"
The medics told me that listening to music at high volumes for hours could affect the inner ear and cause a loss of balance for a few hours. "Someone like you" had messed up my balance! Back to reality, I saw as a sign this balance issue… Magic was trying to tell me something: I had lost myself somewhere along the way and I was completely misaligned with myself.
I took a day off to get back into my old journal and let all my frustrations out. What would I do with my life if I wasn't scared of disappointing or shaking things up ? Who was I really under my mask ?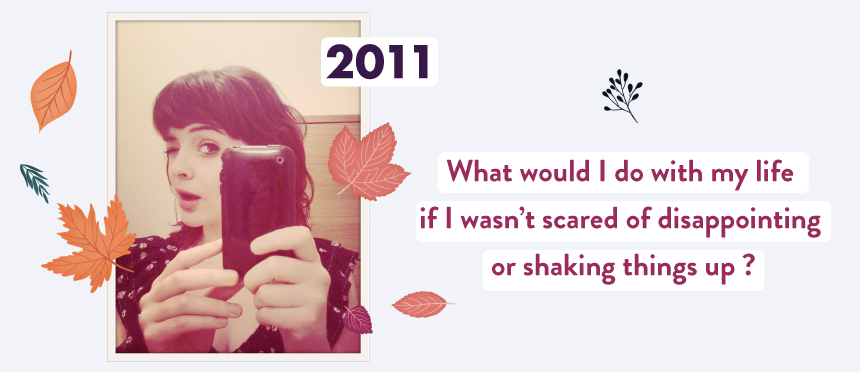 My Confidence on Autopilot
I then listed all the things I dreamed to do but too scared to start. Above all of this: leave Paris that didn't suit me anymore and settle in Montreal.
From the moment I had clarified my wishes, a series of happy coincidences crossed my way, just like magic.
All of a sudden, I kept laying my eyes on commercials and ads for vacations and trips to Quebec. I kept seeing students with Quebecer accent at the library, bumping into a book on how to successfully settle in Canada…
One day, I bumped into a long time friend at the train station: He was on vacation just before starting his new developer job … in Montreal ! After a well celebrated dinner, he encouraged me to make the jump: I had to trust my instinct and follow the signs. Without saying anything about my plans to anyone (to avoid being demotivated by haters), I sold my stuff on Craigslist, quit my job and booked a one way ticket for Montreal in June 2012.
All this phase remains very blurry in my mind … I just recall being on autopilot and moved by an energy and confidence I didn't know I had in me.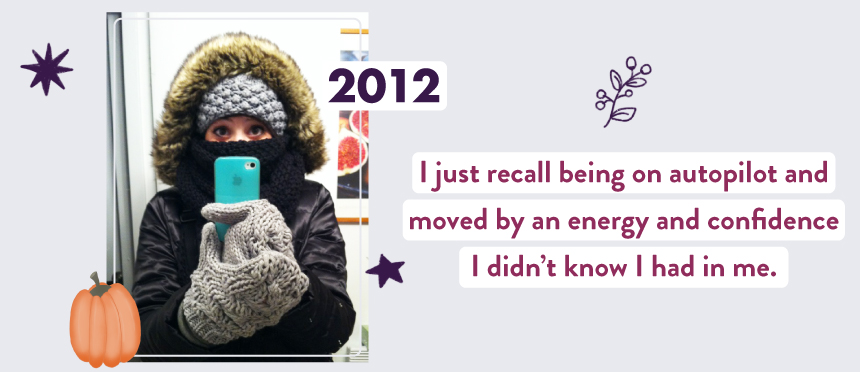 The Magic List
Once the plane landed in Montreal, I was scared but so proud! Always thought I was a natural born fearful person and yet I was taking control of my life: I was experiencing the world according to my needs and wants and worst case: what would happen to me ? Nothing that would put myself in danger.
From there, everything went fine! I had the feeling to really discover myself 25 years later. I imagined the worst reaction from my parents or my boss: they were all very supportive. I was afraid of not finding a job or a place to live once in Montreal: I found a full time job as a graphic designer within 3 weeks and roommates in 3 days.
Everything was falling into place so easily that I saw it as a gift. As if life was rewarding me from making the jump and living my childhood dream.
I also met my husband quite quickly. A native from Brittany who, 5 years later, got a job offer … in California!
All I need now are pink hair and a rock'n'roll band to check all the boxes of the checklist I made at 11 years old.
From now on, I just need to clearly verbalize what I want for the magic to happen and send a little help.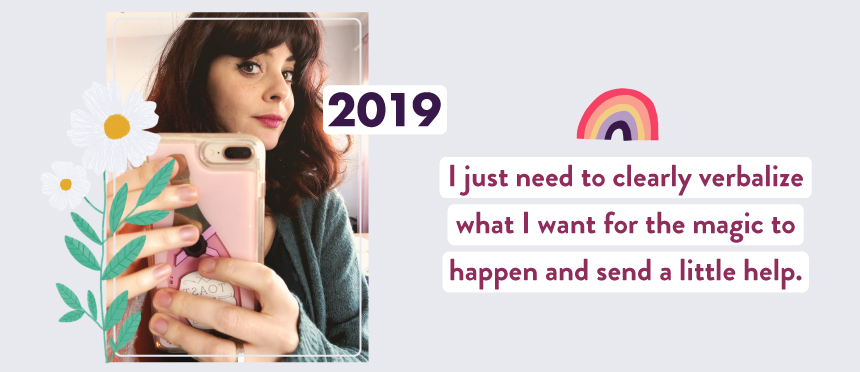 Verbalize, Listen, Take Action !
It's been 7 years since I used that formula: Verbalize your wishes > listen to the signs > take action. I must admit that my life is sweeter now that I took control of it…
Trust your instinct, magic. If a project makes you feel happy inside, it means it was meant for you to happen. Go! We feel so proud and alive when we take action.
I share this magic formula with you, you'll thank me later ! ✨
If you like those stuff about the law of attraction, you can read my summary of the book « The Secret » by Rhonda Byrne !
Élodie